Cedar Wood Oil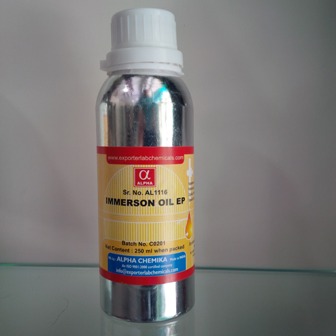 ALPHA CHEMIKA has strived to make its Cedar Wood Oil (Immersion Oil) as user friendly as possible by producing quality products to uniform standards and by providing information it needs on ALPHA CHEMIKA cedar wood oil it's specification and proper use.
Cedar Wood Oil (Immersion Oil) is a clear, colorless oil (refractive index: 1.5150) that allows light transmission through most of the UV/VIS spectrum. Manufactured using a proprietary process that removes interfering substances and results in oil that will not damage valuable optics or irreplaceable slides. The main chemical components of cedarwood oil are a-cedrene, b-cedrene, thujopsene, other sesquiterpenes, cedrol and widdrol.
Looking for the very best Cedar Wood Oil (Immersion Oil) suppliers? From the worlds best Immersion oil manufacturers ? Look no further as ALPHA CHEMIKA can fufill your Immersion oil needs.
ALPHA CHEMIKA supplies Cedar wood oil for research purpose
cedarwood oil, also known as, Cedar oil, Immersion Oil . It is an essential oil derived from the foliage, and sometimes the wood and roots, of various types of conifers, most in the pine or cypress botanical families. Cedarwood (Cedrus atlantica) has a warm, balsamic, woody aroma.
Certificate of Analysis of IMMERSION OIL FOR MICROSCOPY Product Name: IMMERSION OIL FOR MICROSCOPY
Art No : AL2039
Batch No: AL2039 - IMME
Shelf Life : 5 Years


| | | | |
| --- | --- | --- | --- |
| Sr. No | Tests | Specifications | Results |
| 1 | Description | Colourless viscous | Colourless viscous liquid |
| 2 | Refractive index at 20°C | 1.515-1.526 | 1.515 |
| 3 | Wt. per ml at 20°C | About 1.21g | 1.2101g |



1: Chemical Product and Company Identification

Product Name: Immersion Oil For Microscopy Catalog Codes: SLI1372
CAS#: Not available.
RTECS: Not available.
TSCA: TSCA 8(b) inventory: No products were found.
CI#: Not available.
Synonym: Contains Hydrogenated terphenyl and terphenyl, Natural Hydrocarbons, and polybutenes
Chemical Name: Immersion Oil, 1250 CS
Chemical Formula: Not available.



2: Composition and Information on Ingredients

Composition:
Name CAS # % by Weight
Immersion Oil For Microscopy 100 Contains Hydrogenated terphenyl and terphenyl,
Toxicological Data on Ingredients: Natural Hydrocarbons, and polybutenes Not applicable.


3: Hazards Identification

Potential Acute Health Effects: Slightly hazardous in case of skin contact (irritant, permeator), of eye contact (irritant), of ingestion, of inhalation.
Potential Chronic Health Effects:
CARCINOGENIC EFFECTS: Not available.
MUTAGENIC EFFECTS: Not available.
TERATOGENIC EFFECTS: Not available.
DEVELOPMENTAL TOXICITY: Not available.
Repeated or prolonged exposure is not known to aggravate medical condition.



4: First Aid Measures

Eye Contact: Check for and remove any contact lenses. In case of contact, immediately flush eyes with plenty of water for at least 15 minutes. Get medical attention if irritation occurs.
Skin Contact: Wash with soap and water. Cover the irritated skin with an emollient. Get medical attention if irritation develops.
Serious Skin Contact: Not available.
Inhalation: If inhaled, remove to fresh air. If not breathing, give artificial respiration. If breathing is difficult, give oxygen. Get medical attention.
Serious Inhalation: Not available.
Ingestion: Do NOT induce vomiting unless directed to do so by medical personnel. Never give anything by mouth to an unconscious person. If large quantities of this material are swallowed, call a physician immediately. Loosen tight clothing such as a collar, tie, belt or waistband.
Serious Ingestion: Not available.



5: Fire and Explosion Data

Flammability of the Product: May be combustible at high temperature.
Auto-Ignition Temperature: Not available.
Flash Points: OPEN CUP: 163°C (325.4°F) (Cleveland.).
Flammable Limits: Not available.
Products of Combustion: Not available.
Fire Hazards in Presence of Various Substances:
Slightly flammable to flammable in presence of open flames and sparks, of heat. Non-flammable in presence of shocks.
Explosion Hazards in Presence of Various Substances:
Risks of explosion of the product in presence of mechanical impact: Not available.
Risks of explosion of the product in presence of static discharge: Not available.
Fire Fighting Media and Instructions:
SMALL FIRE: Use DRY chemical powder.
LARGE FIRE: Use water spray, fog or foam. Do not use water jet.
Special Remarks on Fire Hazards: Not available.
Special Remarks on Explosion Hazards: Not available.



6: Accidental Release Measures

Small Spill: Absorb with an inert material and put the spilled material in an appropriate waste disposal.
Large Spill: Absorb with an inert material and put the spilled material in an appropriate waste disposal. Finish cleaning by
spreading water on the contaminated surface and allow to evacuate through the sanitary system. Be careful that the product is not present at a concentration level above TLV. Check TLV on the MSDS and with local authorities.



7: Handling and Storage

Precautions: Keep away from heat. Keep away from sources of ignition. Empty containers pose a fire risk, evaporate the residue under a fume hood. Ground all equipment containing material. Do not breathe gas/fumes/ vapor/spray. Keep away from incompatibles such as oxidizing agents.
Storage: Keep container tightly closed. Keep container in a cool, well-ventilated area. Do not store above 32°C (89.6°F). Preferably store between 18 C and 32 C (65 F and 90 F).



8: Exposure Controls/Personal Protection

Engineering Controls:
Provide exhaust ventilation or other engineering controls to keep the airborne concentrations of vapors below their respective threshold limit value. Ensure that eyewash stations and safety showers are proximal to the work-station location.
Personal Protection: Safety glasses. Lab coat.
Personal Protection in Case of a Large Spill:
Splash goggles. Full suit. Boots. Gloves. Suggested protective clothing might not be sufficient; consult a specialist BEFORE handling this product.
Exposure Limits:
TWA: 5 (mg/m3) from ACGIH (TLV) [United States]
CEIL: 5 (mg/m3) for natrual hydrocarbons and polybutenes from OSHA (PEL) [United States]
CEIL: 9 (mg/m3) for terphenyl from OSHA (PEL) [United States]Consult local authorities for acceptable exposure
limits.



9: Physical and Chemical Properties

Physical state and appearance: Liquid. (Oily liquid.)
Odor: Characteristic. (Slight.)
Taste: Not available.
Molecular Weight: Not available.
Color: Yellow. (Light.)
pH (1% soln/water): Not applicable.
Boiling Point: 340°C (644°F)
Melting Point: Not available.
Critical Temperature: Not available.
Specific Gravity: 0.9 @ 23 C (Water = 1)
Vapor Pressure: Not available.
Vapor Density: Not available.
Volatility: Not available.
Odor Threshold: Not available.
Water/Oil Dist. Coeff.: Not available.
Ionicity (in Water): Not available.
Dispersion Properties: Not available.
Solubility: Insoluble in cold water, hot water.



10: Stability and Reactivity Data

Stability: The product is stable.
Instability Temperature: Not available.
Conditions of Instability: Excess heat (over 150 F), continual direct sunlight, vaporizing or atomizing, and incompatible
materials
Incompatibility with various substances: Reactive with oxidizing agents.
Corrosivity: Not available.
Special Remarks on Reactivity: Not available.
Special Remarks on Corrosivity: Not available.
Polymerization: Will not occur.



11: Toxicological Information

Routes of Entry: Absorbed through skin. Eye contact. Inhalation.
Toxicity to Animals:
LD50: Not available.
LC50: Not available.
Chronic Effects on Humans: Not available.
Other Toxic Effects on Humans: Slightly hazardous in case of skin contact (irritant, permeator), of ingestion, of inhalation.
Special Remarks on Toxicity to Animals: Not available.
Special Remarks on Chronic Effects on Humans: Not available.
Special Remarks on other Toxic Effects on Humans:
Potential Health Effects:
Skin and Eyes: May cause skin and eye irritation. May be absorbe by skin.
Inhalation: Inhalation of vapor or mist may cause respiratory tract irritation. If liquid is misted about 150 F, headaches and nausea are possible.
Ingestion: Low order of toxicity. May cause gastrointestinal tract irritation.
The toxicological properties of this substance have not been fully investigated.



12: Ecological Information

Ecotoxicity: Not available.
BOD5 and COD: Not available.
Products of Biodegradation:
Possibly hazardous short term degradation products are not likely. However, long term degradation products may arise.
Toxicity of the Products of Biodegradation: Not available.
Special Remarks on the Products of Biodegradation: Not available.


13: Disposal Considerations

Waste Disposal: Waste must be disposed of in accordance with federal, state and local environmental control regulations.



14: Transport Information

DOT Classification: Not a DOT controlled material (United States).
Identification: Not applicable.
Special Provisions for Transport: Not applicable.



15: Other Regulatory Information Federal and State Regulations: No products were found.


Other Regulations: Not available.
Other Classifications: WHMIS (Canada): Not controlled under WHMIS (Canada).
DSCL (EEC): This product is not classified according to the EU regulations.
Not applicable.
HMIS (U.S.A.):
Health Hazard: 1
Fire Hazard: 1
Reactivity: 0
Personal Protection: a
National Fire Protection Association (U.S.A.):
Health: 1
Flammability: 1
Reactivity: 0
Specific hazard:
Protective Equipment:
Not applicable.
Lab coat.
Not applicable.
Safety glasses.


16: Other Information

References: Not available.
Other Special Considerations: Not available.
Created: 10/09/2005 05:48 PM
Last Updated: 11/06/2008 12:00 PM