Iodine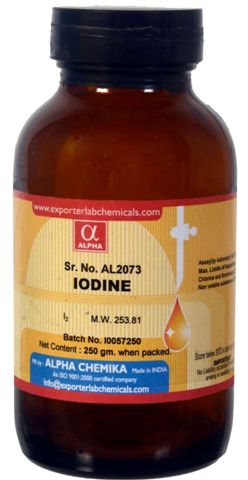 ALPHA CHEMIKA have a comprehensive and reliable infrastructure for manufacturing and trading of good quality Iodine EP/AR. These products are suitable for biomedical uses.. Although these are a halogen, the iodine has a metallic look and can be viewed as a metalloid and they are quite volatile in nature.
We can give the assurance of timely delivery, excellent quality and competitive rates. And that is what we call as our core competence at ALPHA CHEMIKA
Buy Iodine online from ALPHA CHEMIKA at the lowest possible cost. We are confident that you will be pleased with our products and services.
Iodine has been used to help individuals exposed to radiation by reducing the harmful accumulation of radioactive substances in the thyroid. Alpha Chemika are one of the leading Iodine suppliers in India and iodine manufacturers in India.
Certificate of Analysis of IODINE (RESUBLIMED) EXTRA PURE 98.5% Product Name: IODINE (RESUBLIMED) EXTRA PURE 98.5%
Molecular formula: I2
Molecular Weight: 253.81
Art NO: AL2072
Batch No: AL2072 - IODI
Shelf life: 5 years

| | | | |
| --- | --- | --- | --- |
| Sr No | Tests | Specifications | Results |
| 1 | Description | Grayish-black crystalline flakes/granules with metallic luster | Grayish-black granules with metallic luster |
| 2 | Assay(Min.) | 98.5% | 99.55% |
| 3 | Chlorine & Bromine (as Cl) | <0.025% | 0.005% |
| 4 | Non –volatile substance | <0.05% | 0.005% |

Results: The above product complies with LR grade



Certificate of Analysis of IODINE (RESUBLIMED) EXTRA PURE 99.5%

Product Name: IODINE (RESUBLIMED) AR 99.5%
Molecular formula: I2
Molecular Weight: 253.81
Art NO: AL2074
Batch No: AL2074 - IODI
Shelf life: 5 years

| | | | |
| --- | --- | --- | --- |
| Sr No | Tests | Specifications | Results |
| 1 | Description | Grayish-black crystalline flakes/granules with metallic luster | Grayish-black granules with metallic luster |
| 2 | Assay(Min.) | 99.5% | 99.55% |
| 3 | Melting point | About 113°C | 113°C |
| 4 | Non –volatile matter (105°C) | <0.005% | <0.005% |
| 5 | Chlorine & Bromine (as Cl) | <0.005% | <0.005% |
| 6 | Sulphate (SO4) | <0.002% | <0.002% |

Results : The above product complies with AR grade