pH Indicator Papers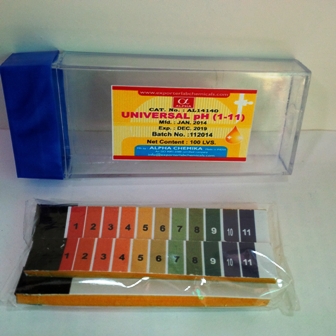 Alpha Chemika offers a range of pH indicator and test papers to meet your specific needs. pH strips are filter paper impregnated with an indicator or a mixture of indicators. The paper is dried, cut in convenient size, and then packed into a suitable package.
These products combine ease-of-use with unsurpassed accuracy and consistency. The pH papers are for the rapid determination of pH values in many applications in laboratories and industry. Acid-alkali test papers are a general test for acid or alkaline reaction, Such as Lead acetate test papers are for detecting hydrogen sulfide.
Alpha Chemika is one the major pH Indicator manufacturers and suppliers in India.
A pH Indicator is a substance that is usually a weak acid or base that helps in identifying the pH of the solution that it is used in. When such pH Indicators are diluted with stronger solutions, the solution changes color according to the pH of the solution.
| | | | | | |
| --- | --- | --- | --- | --- | --- |
| | | | | | |
| COBALT CHLORIDE.200LVS | LEAD ACETATE.200 LVS | LITMUS RED 200 LVS | RANGE OF LITMUS BLUE | STARCH 100 & 200 LVS | UNIVERSAL INDICATOR pH 1-11 |
Features and Benefits
pH indicators are supplied in plastic handy-pack that ensure long term stability and protection against many external influences.
The indicator paper will always be ready-to-use when needed.
pH indicators are manufactured from high quality filter papers.
Supplied with color scale- which makes the read –off of result easy and accurate
Excellent for quick spot checks. pH test strips will give you accurate pH level for a wide range of routine pH testing
Inexpensive, compared to a pH meter and sensor.
Convenient and portable for field use.
Art No.
Product Name

(For Specification click on Product Name)

Packaging
MSDS
COA
Inquiry
AL1258
COBALT (II) CHLORIDE TEST PAPER
200LVSs
AL12790
LEAD ACETATE PAPERS EP
PKT
AL12791
LEAD ACETATE PAPERS EP
PKT
AL2302
LITMUS BLUE indicator paper
200LVS
AL2303
LITMUS BLUE indicator paper
1ROLL
AL2308
LITMUS RED indicator paper
200LVS
AL2309
LITMUS RED indicator paper
1ROLL
AL7861
STARCH PAPER
200LVS
AL3771
STARCH IODIDE PAPER
200LVS
AL14137
UNIVERSAL INDICATOR papers pH 1-10 (with chart)
ROLL
AL14138
UNIVERSAL INDICATOR papers pH 1-10 (with chart)
ROLL
AL3322
UNIVERSAL INDICATOR papers 1-10 (with chart)
1PKT.